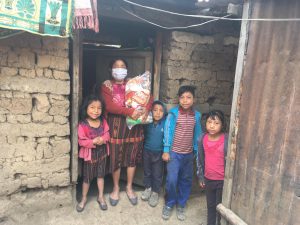 UPDATE:  The auction ended noon central time on June 1, 2020.  Thank you to all the artists and all the bidders!
Thank you for visiting our auction!  All items being sold here will have their proceeds sent to our community partners in Guatemala for urgent food relief.  Because of this pandemic, all tourism revenue (which the country of Guatemala relies on) and many hard-working people are out of jobs, have no income, and are not eating.  Their lives were at risk before, but the situation is even more severe now.
The four communities that will benefit from this auction are:
Nuevo Reto (Bárcenas, Villa Nueva)
Backyard School (San Bartolomé Milpas Altas)
Jose Miguel Yllescas Juarez (Santiago Atitlan)
Diego Xirum / GSP (Chichicastenango).
Unless otherwise indicated in the auction listing, the winnings will be distributed equally to the four communities.  If you have any questions or care to submit a piece of art to this auction, please contact Jennifer Demar.  Thank you!
Meet the Artists
Lydia Culhane (US/Guatemala)
My name is Lydia Culhane.  I am 16 years old. I attend Oconomowoc High School as a sophomore.  Before this pandemic I worked at Schwefel's German and American restaurant in Oconomowoc for the last 2.5 years.  Right now I am working with my father as an HR intern at Newman Pools Inc. I was born in Guatemala in 2003.  Just last year I found out that I have a half-sister, which I discovered with a 23andMe DNA test. To this day we talk all the time and are the best of friends.   Painting to me is showing who you are and sorta what goes on in your mind, I have done more landscape paintings, for example, a lot of things that have to do with bodies of water or that have trees in them because I can do a lot with the texture that is needed to really bring out the story that is being told in the painting.  The texture is something that I love to pay attention to. I like to use many different tools that can help bring my painting to life.  At first, I didn't know where I should start this series of paintings; there are so many amazing and beautiful things about Guatemala.  My sister has been there many times and some of the landscapes are inspired by her photos, from her recent travels there. The one painting of the dress is a very special painting.  It may not be the most valuable but is it the most important to me.  When I was baptized here in the United States this is what I wore, I tried the best I could to take the base of the dress and create something that was just as beautiful. I am no artist, I just paint from the heart. I am no Bob Ross that is for sure. These paintings are not 5 stars but they are made with love and I hope that you enjoy these as much as I did making them.
Ada Castillo (Guatemala)
Ada Castillo is co-director of Nuevo Reto.  She coordinates projects and training, travel teams, budgeting, student sponsorship, and more!  In her free time she likes to create art.  In addition to painting all of the murals for the Nuevo Reto Community Library, she also made a quetzal watercolor at my request for a fundraising project!
Nuevo Reto Youth (Guatemala)
In Guatemala teenagers are expected to start helping the family's economy as soon as they graduate from High School (if they do graduate). Having some job training is crucial! At Nuevo Reto we are always looking for opportunities to meet this need. The purpose of the Training for Life programs is to motivate the students to be self supportive and entrepreneurs, and is also an opportunity to teach them how to manage the finances they get by doing woodwork, crafting or sewing.
One of the original ideas we had resulted in a flat fabric Guatemala map using some canvas and Guatemalan hand made fabrics.  We are so proud of Anderson, 16, who is the key leader for the crafting area.  He and other teenagers, Gerson (13), and William (13), were involved in the making the canvas maps from scratch from selecting, cutting and gluing the fabric. Beth, a volunteer from the States, did the lettering.
Gerson and William live about 6 miles from our Training Center, sometimes they walk or ride a bike, either because they miss the bus or don't have money for transportation. I have to mention that the Training for Life is an after-school program.  This, I think, adds more value to the making of these precious crafts.
Jessi Belich (US)
Jessi Belich is the artist behind Mint + Sky Studio, creator of inspired, useful, and beautiful things. She works in illustration, design, photography, and ceramics. She is a graduate of the Maryland Institute, College of Art in Baltimore. She has been a high school art educator in Wauwautosa since 2001 and absolutely loves sharing art with others. Guatemala Service Projects is a charity close to her heart as her niece and nephew were both adopted from Guatemala. You can find more of her work at https://society6.com/mintandskystudio
Maya Micklin  (US/Guatemala)
Maya Micklin is 13 years old and in 8th grade. She was born in Villa Nueva on June 26, 2006. She came to her forever home in Chadds Ford, PA on January 19, 2007. Maya loves to paint and has recently enjoyed creating paint pours. Maya also loves animals and volunteers at a local animal shelter walking dogs. She has been accepted into a technical school program for Animal Science next year when she starts High School.
MR (Guatemala)
The two largest paintings in our auction are by a Guatemalan artist whose signature only reveals his/her initials:  "MR".  This artist has a proclivity for painting Lake Atitlan landscapes!  In fact, I (Jennifer Demar) own one these paintings and have it proudly displayed over a love seat in my family room!
Osorio (Guatemala)
Three large beautiful paintings are by the Guatemalan artist that signs "Osorio".  Depicted are scenes from Antigua and the Lake Atitlan region.
Juan José Yojcom (Guatemala)
The "Three Weavers" in his painting depict women from three different villages around Lake Atitlan.  Their huipil designs may be different, but they are united by the love of their craft!
Nelson C (Guatemala)
The two paintings by Guatemalan artist "Nelson C" were purchased at the artisan's market in Antigua.
Elizabeth M (Guatemala)
Her lovely painting was acquired in the Chichicastenango market.  It's lovely large size is a focal point for any location and the beautiful colors brighten any space!
Beth Ann Tobin (US)
I have worked with Nuevo Reto in different capacities over the last five and a half years from short term mission trips to six month stints. Each time in Guatemala is such a unique and wonderful experience. I love getting to grow closer with the students and form lasting bonds. It is exciting to see how the program has grown and changes. I have been able to help with some of the training for life programs such as teaching English and art classes. I am honored to be able to produce some of my own art to help raise money for a place so close to my heart during this difficult time.
Marc Crawford (US/Guatemala)
Marc Crawford was born on Oct 1, 2006 in Mazatenango, Suchitepéquez. He came home in Aug 2007 and lives in Hermitage, PA. He is currently 13 years old. He spends most of his time drawing, listening to TobyMac, spending time with family and friends, and doing activities with Grace Chapel's Youth Group. Marc's passion is drawing Marvel and DC characters. He takes art lessons at Art with Amy (Amy Jones). He has a great sense of humor and often tells jokes!
Melissa Perry (US)
Melissa Perry is a realtor with Froemming Realty and wannabe artist in Oconomowoc, WI with a passion for art with a cause!
Brooke and Anna from BAAM Art Studio (US)
Hi my name is Brooke. I am 11 years old and I just found a new love for art. My sister and I just started our own painting business called BAAM Art Studio. We are excited for this new adventure. We are honored to be asked to create a painting for this auction and hope that it will help many people.
Hi my name is Anna. I am 9 years old and I just found a new hobby for myself. I created a few paintings and they sold so quickly, so my sister and I have decided to start our own painting business. This has been a great experience and I am excited to showcase my work. I am so excited to be part of an amazing cause and hope I can feed many people.