Emergency Food and Hand Soap Relief for Coronavirus in Guatemala
Yesterday, March 15th, 2020
I wrote on my Facebook page:
The first Coronavirus-related death in Guatemala happened today. For a country with so many needs and such a lacking healthcare system, my thoughts are with them. My actions will be too, via Guatemala Service Projects.

No matter where you are in this world, try to find ways to help your neighbor, especially if you are blessed with sufficient material goods, and relative health.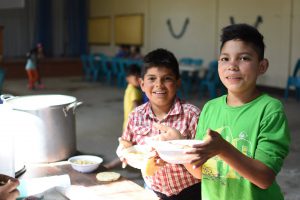 As I knew would be the case, we have been approached by many of the communities we support!  The government of Guatemala has closed borders, instituted social distancing, closed schools, cancelled all events where people would gather, and have issued the simple command to wash your hands.
The people of Guatemala are suffering terribly.
Anyone that has traveled there knows how much the people rely on the hospitality industry and tourism.  Most people are day-laborers, and work is very hard to get.  Even basic needs, which were difficult to satisfy before, are now even a greater hardship.
There is a small population there (like here) that have hoarded all the food, hand sanitizer, masks, and over-the-counter medicines because they could afford to do so.  This leaves the majority of the population without food, without hand soap, and without work.
Would you please join me in donating so that we can provide as much assistance as possible?
The funds are being sent to Iris Santander at the Backyard School, Pastor Jacob at Nuevo Revo and Diego Xirum to support the additional communities we serve in the Quiché department — including the Panimaches, Chujupen and Chichicastenango.
Iris explains:  I can buy beans, sugar and rice per quintal and be able to give a little to each family, taking all the necessary precautions during delivery.
Diego infers:  Everyone has been asked to stay at home, and we have been told not to assemble in large groups.  The government says we should buy hand soap but people cannot afford it.  I will place a special order and deliver it to those in need.  Having access to soap or hand sanitizer will make them feel like they are actively fighting for their health.
I know those funds will not last long.  Please be as generous as you can.  We know full well that your family or your neighbors may be suffering too.  If you can't spare a donation at this time, please share!  Together we can!
Many thanks for your consideration and positive thoughts!
Sincerely,
Jennifer Demar
President, Guatemala Service Projects