The effect of a global pandemic on a nonprofit that serves Guatemala
Granted it has been a few months, but in my last blog post I provided an update to show what schools that we support were doing (in November and December) while kids were enjoying their end of year vacation.  When the school year resumed in January, I had planned another progress report showing the completed work, but someone never got those detailed thoughts "down on paper".  I had posted mini snippets of the outcomes of our work on our Facebook page (https://www.facebook.com/GuatemalaServiceProjects/) but never expounded to any extent in the blog.
Maybe I thought that our trip in March would have best allowed me that opportunity.  There was a two week trip that was supposed to happen then.  Not only could I share the updates photographically, but I could do it "on location" and provide interviews and  a more personalized recap for all the donors that contributed to our projects over a several month long time period.
As it got closer to March, I spent more and more hours preparing… collecting and packing the Spanish books, vitamins, and other donations that would be transported in luggage.  But, when news of COVID-19 hit and we were faced with having to make a decision whether or not to travel, we considered how devastating it would be for a developing nation to be hit by the pandemic.  As of that date, Guatemala still had no active cases.  We decided not to travel, and a few days later received word that the travel ban was put in place — which would have made the final decision for us had we still been undecided.
Families everywhere are being impacted by the pandemic, in multiple ways.   So what does this mean for our ability to raise funds and what needs arise in the interim?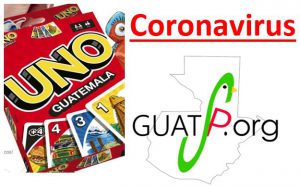 One of the biggest fundraisers we've ever had was the UNO Guatemala card game.  I began taking orders in late 2019 and continued advertising those throughout the winter and early spring.  The promise was that when I traveled in March with the team, we would bring the UNO decks back in our luggage and then start shipping upon our return on April 1st.  Amazingly, I placed an order for 950 decks.  The UNO cards are still sitting in Guatemala, waiting patiently for my visit.  Thankfully, only one person has requested a refund and everyone else agreed to patiently wait for the time when it was safe for me to travel for them.  Luckily, I was able to use the proceeds from that fundraiser, already realized, to immediately respond to needs in Guatemala.
All of our in-person fundraisers have been postponed or cancelled.  Our charity rummage sale, for example, was not held the first weekend of May.  Not knowing for how long we might be asked to maintain social distancing,  we will likely not have a rummage this year at all.  Instead, we have been listing many of the donated items on eBay!  If you would like to sell your personal items on eBay to raise funds for us, it's not hard to do!  Check out this link which explains the process:  https://www.charity.ebay.com/charity/Guatemala-Service-Projects-Inc/214918
In April, we had a knit and crochet charity auction.  Fiber artists contributed their crafted works, and generous bidders helped us raise the funds.  Having no costs involved, all $814 raised went to feed people in Guatemala!  The knitters and crocheters ranged in age from 13 to 94!  The most popular items were the dish cloths crocheted by the oldest crafters!  Hooray and kudos to all for their love and support!
This month, we are having an art auction with the same goal in mind… to raise funds for emergency food relief!  Artists young and old, student, teacher, hobbyist and professional.  Adoptees from Guatemala!  We have been offered paintings and drawings from local and Guatemalan painters, all of which are inspiring donors to bid generously.
A *NOTE* about our art auction fundraiser…
We are not "selling art" — we are feeding people and giving them hope.
It is just through the auction that we are creatively raising funds. If you are motivated to help feed people, please bid on an auction item!!!
Your bids show the artists that their efforts are contributing to our relief efforts. The money will still get to Guatemala, whether you donate directly or bid in an auction. If you are financially able to donate $20, please consider placing a $20 bid on a painting.  There are items in our auction with starting bids ranging from $5 to $225.
If you do not want the painting or do not want to pay the postage to have us ship it to you, you can refuse the painting. What that allows us to do is collect the donation from you and re-list the painting in a future auction — and THEN the painting's value and the donation is doubled!  Here are just a few of the awesome pieces contributed: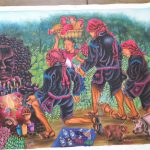 You can "meet the artists" and see the dozens of items available for bids at this link:  https://www.guatsp.org/covid-19-art-auction/
What needs arise in the interim?  As you've undoubtedly guessed by now —  food relief!!!  When Guatemala closed its borders and went into lock-down mode, the country suffered even more.  Some parts of Guatemala rely on tourism to survive.  Without tourists, many people are out of work — which means no food.  There are no governmental protections there like there are in the United States.  No food banks or pantries.  No vouchers.  No stimulus money.   NOTHING.  People are not eating.  But, that's not the only problem!  In addition to not having access to food, the country of Guatemala was terribly unprepared from a healthcare standpoint for a pandemic.  Hospitals and clinics do not have PPE.  Like in the US, hand sanitizers and cleaning products were hoarded.  Wearing masks became a requirement, and if you were seen in public without one, you could be fined an amount that it would take a rural Guatemalan a lifetime to repay!
Thankfully, we work with so many capable community leaders in Guatemala!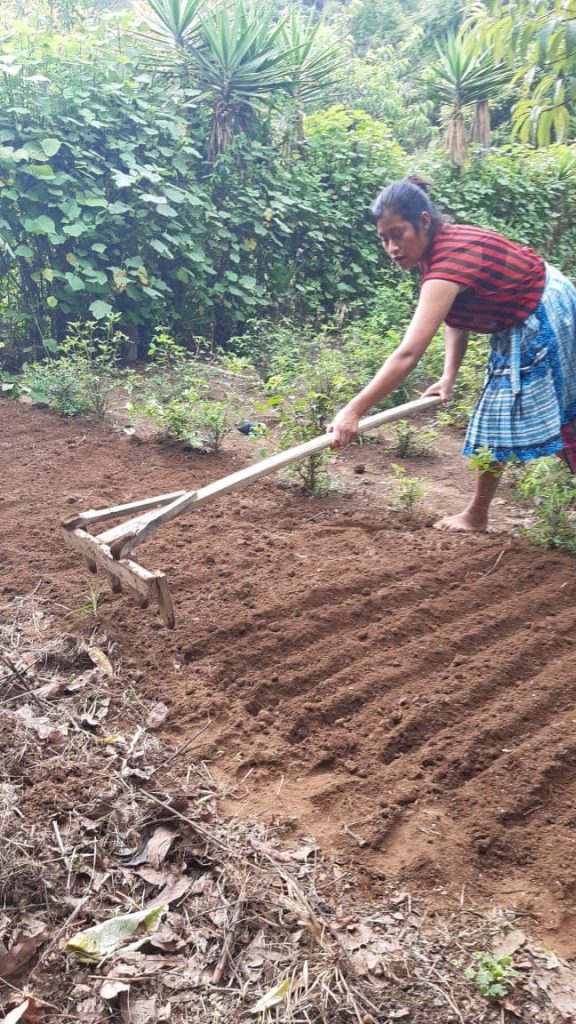 We had to change focus from some of our other projects to that of providing food, healthcare items… and hope.  With the help of many kind donors, we were able to send funds to:
purchase staples like corn, rice, beans, sugar, oatmeal, noodles in bulk and then prepare family-size bags at a savings
continue a meal delivery program while allowing for social distancing — instead of having community meals on-site, "to go" meals were delivered to each person's home
incorporate a noodle pickup and delivery program from the capital city to Santiago Atitlan
extend the size of one of our community gardens to allow for the planting of additional crops
donate seed packets so that over 100 families could plant multi-vegetable gardens on family plots of land
buy masks, gloves, surgical gowns, hand soaps, gel and other protective clothing for two public health departments (remember!  no help from the government!)
In addition to addressing immediate (food) relief and providing delayed (seed packet) relief, we also worked with community leader, Iris Santander, to help residents start food-related small businesses.  For a half-dozen women, your donations provided a comal and corn.  This allowed those women to start a tortilla business.  Not only did those tortillas fill that day's food need, but the profits from tortillas sold allowed the women to buy more ingredients for the next day and have money left over to buy additional food!  For another mother, Iris was able to use the funds we sent to purchase the initial supply of fruit and a cart to set up a fruit stand!
What a joy it was for these mothers to be industrious and be able to feed their families!  Thank you!!
Diego Xirum, our Guatemalan staff, spent countless hours acquiring as many personal care and health clinic needs as possible.  Medical-grade masks were harder to come by, but he did the best he could, having built relationships of trust with local pharmacies that offered to give him a small discount.  Diego also tirelessly bought massive amounts of food, separating it into food bundles and delivering it to all 68 families in Panimache Quinto Alto and Bajo, the two villages that we have been supporting with our vitamins program, low-emission stoves, and where we delivered shoes last summer.  In addition to the bag of food, they received five seed packets per family.  They were so happy to receive both!  Please enjoy these photos that show his work as a part of our team!